In this post, I will share the top 10 Allama Iqbal Poetry lines. Allama Iqbal is the greatest poet of the Urdu language. You must know how great his poetry is if you are searching for his poetry. Here are my 10 favourite poetry couplets from his Urdu poetry.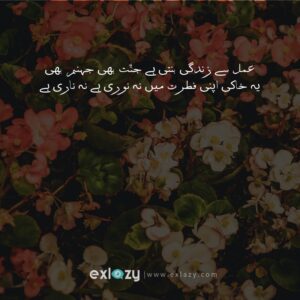 عمل سے زندگی بنتی ہے جنت بھی جہنم بھی
یہ خاکی اپنی فطرت میں نہ نوری ہے نہ ناری ہے
Amal se zindagi banti hai jannat bhi, jahanum bhi
Ye khaaki apni fitrat main na noori hai na naari hai
عقل کو تنقید سے فرصت نہیں
عشق پر اعمال کی بنیاد رکھ
Aqal ko tanqeed se fursat nahi
Ishq par aamal ki buniyad rakh
ڈھونڈتا پھرتا ہوں میں اقبال اپنے آپ کو
آپ ہی گویا مسافر آپ ہی منزل ہوں میں
Dhoondta phirta hoon main Iqbal apne aap ko
Aap hi goya musafir aap hi manzil hoon main
اچھا ہے دل کے ساتھ رہے پاسبان عقل
لیکن کبھی کبھی اسے تنہا بھی چھوڑ دے
Acha hai dil k saath rahe paasban aqal
Lekin kabhi kabhi isay tanha bhi chor de
تمنا درد دل کی ہو تو کر خدمت فقیروں کی
نہیں ملتا یہ گوہر بادشاہوں کے خزینوں میں
Tammana dard e dil ki ho tou kar khidmat faqeeron ki
Nahi milta ye gohar baadshahon k khazeenon main
دنیا کی محفلوں سے اکتا گیا ہوں یا رب
کیا لطف انجمن کا جب دل ہی بجھ گیا ہو
Dunia ki mehfilon se ukta gya hoon ya Rab
Kya lutf anjuman ka jab dil hi bujh gya ho
ترے آزاد بندوں کی نہ یہ دنیا نہ وہ دنیا
یہاں مرنے کی پابندی وہاں جینے کی پابندی
Tere azad bandon ki na ye dunia na wo dunia
Yahan marne ki pabandi wahan jeene ki pabandi
انداز بیاں گرچہ بہت شوخ نہیں ہے
شاید کہ اتر جائے ترے دل میں مری بات
Andaz e byan garcha bohat shokh nahi
Shayd k utar jaye tere dil main meri baat
خرد مندوں سے کیا پوچھوں کہ میری ابتدا کیا ہے
کہ میں اس فکر میں رہتا ہوں میری انتہا کیا ہے
Khird mandon se kya poochon k meri ibtida kya hai
K main is fikar main rehta hon meri intiha kya hai
ظاہر کی آنکھ سے نہ تماشا کرے کوئی
ہو دیکھنا تو دیدۂ دل وا کرے کوئی
Zahir ki aankhse na tamahsah kare koi
Ho dekhna tou deeda e dil wa kare koi
I hope you liked this short collection of poetry couplets from Allama Iqbal Poetry. You can share your favourite poetry lines by Allama Iqbal in comment box.