The ability to edit videos has become crucial in today's digital environment. The correct tools can make all the difference, whether you're a marketer, educator, content creator, or just someone who likes to make videos. CapCut Creative Suite is one such tool that empowers users to create stunning videos with ease. This toolkit equipped with multiple online tools like online video and an online photo editor becomes handy in this creative journey of elevating your content quality. In this comprehensive guide, we'll take you through the process of mastering video editing with CapCut Creative Suite in four essential steps. Along the way, we'll explore real-life examples where this versatile suite can have a significant impact on your creative endeavors.
Step-By-Step Guide for CapCut Creative Suite
Now let's delve straight into the guide of how to elevate your content online by utilizing this creative suite's features.
The first step to mastering video editing with CapCut Creative Suite is to sign up for an account. The process is straightforward and offers a free trial with no credit card required. Here's how to get started:
Visit the CapCut Creative Suite website: Go to the official CapCut website, and you'll be greeted by a user-friendly interface that immediately invites you to explore the world of video editing. The intuitive design of the website ensures that even newcomers to video editing can navigate with ease.
Create an Account: You'll be prompted to create an account with your email address or through your preferred social media profiles. This user-friendly approach ensures that the onboarding process is quick and convenient.
Verify Your Email: After you've entered your email and chosen a password, a confirmation email arrives in your inbox almost instantly. Click on the link provided to verify your account. This confirmation step adds an extra layer of security to your CapCut Creative Suite account.
Set Up Your Profile: With your account now verified, you can dive into setting up your profile. Adding a profile picture, a bio, and other personal details allows you to customize your experience and establish your unique identity within the CapCut community.
Step 2: Import Your Footage
Once you have an account, it's time to import your video footage into CapCut Creative Suite. This is a crucial step, as it's the foundation of your video editing journey. Here's how to do it:
Create a New Project: Click on the "New Project" or "Create Project" button to initiate a new video editing project. The ease with which you can create projects in CapCut Creative Suite allows you to seamlessly organize your work, whether it's a single video or a series of related content.
Import Your Video Files: You can import video files from your computer or cloud storage by clicking on the "Import" or "Upload" buttons. CapCut Creative Suite's compatibility with a variety of file formats ensures that you can bring your footage into the toolkit effortlessly.
Organize Your Footage: CapCut Creative Suite allows you to organize your imported footage into a timeline, making it easy to arrange and edit your videos. The intuitive drag-and-drop interface ensures that you can place clips in the desired order and create a seamless flow within your project.
Step 3: The Editing Process
Now that you have your footage in place, it's time to dive into the editing process. CapCut Creative Suite offers a wide range of editing features, making it a versatile tool for various creative projects. Here's an in-depth look at the editing process:
Video Trimming and Cutting: The trimming and cutting capabilities within CapCut Creative Suite are particularly powerful. You can effortlessly remove unwanted sections or create shorter segments to eliminate mistakes, refine the pacing of your video, and ensure that your viewers remain engaged from start to finish. Make sure to check the video to text feature which is a built-in feature of the online video editor tool to enhance your creativity.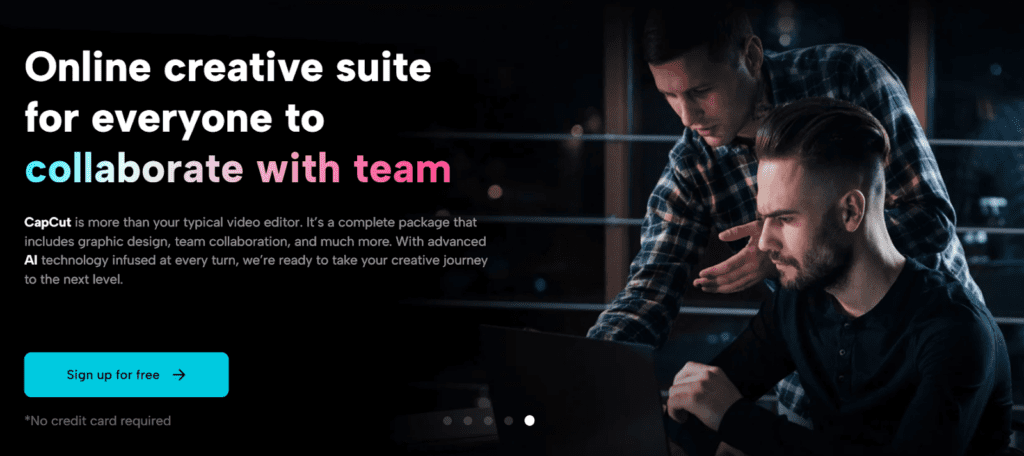 Adding Text and Titles: One of the standout features of CapCut Creative Suite is its user-friendly text and title tools. You can seamlessly integrate text overlays, captions, and titles into your videos. This feature is indispensable for conveying information, providing context, or enhancing the visual appeal of your content.
Transitions and Effects: Elevating your video content is made easy with CapCut Creative Suite's transition and effects library. With a wide selection of transitions at your disposal, you can add professional polish to your videos. Whether you prefer seamless cuts, dynamic slides, or creative fades, the suite has you covered.
Audio Editing: CapCut Creative Suite excels in audio editing, allowing you to fine-tune the auditory experience of your videos. You can adjust audio levels to ensure that the dialogue is clear and the music isn't overpowering. Adding background music enhances the mood of your video, and the suite offers a library of royalty-free music tracks for your convenience.
Color Grading: Visual aesthetics play a significant role in engaging your audience, and CapCut Creative Suite offers a robust color grading toolset to help you achieve the desired look for your videos. With the ability to adjust brightness, contrast, saturation, and color balance, you can apply a specific color palette or visual style consistently across your content.
Step 4: Export Your Edited Video
After perfecting your video, it's time to export it and share it with your intended audience. Here's how to do it with CapCut Creative Suite:
Preview Your Video: Before exporting, CapCut Creative Suite allows you to preview your video. This crucial step ensures that your content looks just the way you want it. You can review the transitions, effects, and audio to guarantee a polished final product.
Choose Export Settings: CapCut Creative Suite provides plenty of export settings to cater to your specific needs. You can select the resolution, format, and quality of your video, tailoring it to the platform or audience you're targeting.
Export Your Video: After you're happy with your video and have set up your export preferences, click the "Export" or "Save" button to begin the export process. The duration and quality settings of your video will determine how long it takes to export.
Download or Share: After the export is complete, you have the option to download your video to your computer for local storage or share it directly to your preferred platform or social media channel.
CapCut Creative Suite Making an Impact
Now let's see how this creative suite is helping people in various fields with its creative tools and features. Some of them are mentioned below and can highly benefit from this online toolkit.
Small businesses can use CapCut Creative Suite to create professional-looking promotional videos, showcasing their products and services. This can help increase brand visibility and attract more customers.
Educational Content Creation
Teachers and educators can use CapCut Creative Suite to produce engaging video lessons, making learning more interactive and accessible for students.
Travel vloggers can enhance their travel videos with CapCut Creative Suite by adding cinematic effects, music, and text overlays to captivate their viewers.
Fitness instructors can create workout tutorials, complete with animated text, transitions, and music, to guide their audience through exercise routines.
Whether it's a wedding, a birthday party, or a corporate event, CapCut Creative Suite allows event videographers to edit and share memorable moments compellingly.
Final Thoughts
In conclusion, mastering video editing with CapCut Creative Suite is a rewarding and creative journey. With these four essential steps discussed earlier, you'll be well on your way to creating high-quality videos. CapCut Creative Suite's versatility and user-friendly interface make it a valuable tool for a wide range of real-life applications, from business promotion to educational content creation and beyond. Start your video editing journey today and unlock your creative potential with CapCut Creative Suite.